Anthem for children's chorus (SA) with  piano accompaniment.  Text by Charles Wesley, setting by J. Bruce Ashton.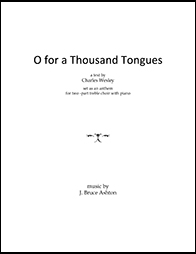 O for a thousand tongues to sing
My great Redeemer's praise,
The glories of my God and King,
The triumphs of His grace!
Jesus! the Name that charms our fears,
That bids our sorrows cease,
'Tis music in the sinner's ears,
'Tis life and health, and peace
Glory to God, praise, and love,
Be ever, ever given
By saints below and saints above,
The church in earth and heaven.
Look unto Him, ye nations, own
Your God, ye fallen race;
Look, and be saved through faith alone,
Be justified by grace
See all  your sins on Jesus laid;
The Lamb of God was slain,
His soul was once an offering made
For every soul of man.
O for a thousand tongues to sing
My great Redeemer's praise,
The glories of my God and King,
The triumphs of His grace!
– by Charles Wesley
O for a Thousand Tongues (performance)
Price $2.80
Please order at least 8 copies