Alas! and Did My Savior Bleed? and O Love Divine What Hast Thou Done!
Two anthems for SATB choir with optional piano accompaniment. Alas! and Did My Savior Bleed? Text by Isaac Watts  – c. 2:07; O Love Divine, text by Charles Wesley – c. 1:57. Both texts in new settings by J. Bruce Ashton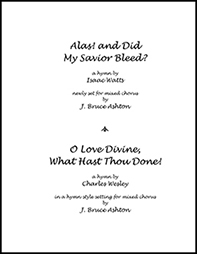 Alas! and did my Savior bleed,
And did my Sovereign die?
Would He devote that sacred Head
for such a worm as I?
Was it for crimes that I had done
He groaned upon the tree?
Amazing pity! grace unknown!
And love beyond degree.
Well might the sun in darkness hide
And shut his glories in,


When Christ, the mighty Maker died
For man the creature's sin.
Thus might I hide my blushing face
While His dear cross appears,
Dissolve my  heart in thankfulness
And melt my eyes to tears.
But drops of grief can ne'er repay
The debt of love I owe.
Here, Lord, I give myself away;
'Tis all that I can do.
– by Isaac Watts
Alas! and Did My Savior Bleed?[midi]
Price for both–$2.35
Please purchase a least 8 copies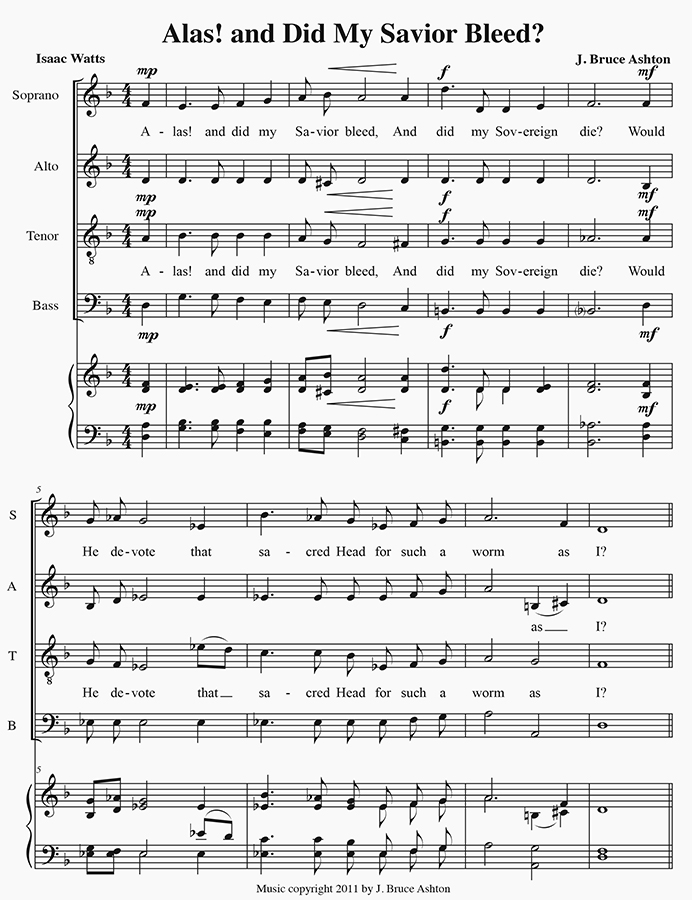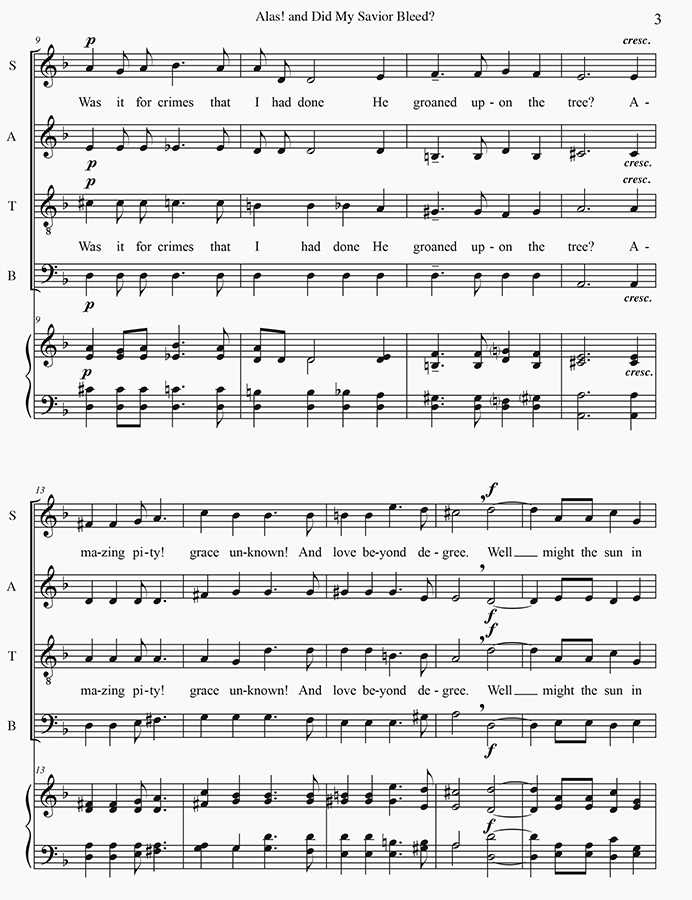 O Love Divine What Hast Thou Done? (midi)
O Love divine, what hast Thou done!
Th' incarnate God hath died for me!
The Father's well-beloved Son
Bore all my sins upon the tree!
The Son of God for me hath died
My Lord, my Love is crucified.
Behold Him, all ye passers-by
The bleeding Prince of life and peace!
Come, sinners, see your Saviour die,
And say, was ever grief like His?
Com, feel with me His blood applied
My Lord, my Love, is crucified.
Then let us sit beneath His cross,
And gladly catch the healing stream;
All things for Him account but loss,
And give up all our hearts to Him!
Of nothing think or speak beside
My Lord, my Love is crucified.
– by Charles Wesley