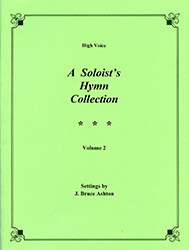 A Soloist's Hymn Collection, Volume 2
Eight More Hymn Settings for General Use
Original settings, as well as arrangements by J. Bruce Ashton; available in High, Medium or Low voice ranges. Samples given are from the high voice book.
Live Out Thy Life Within Me –  Frances Ridley Havergal's familiar text in a totally new anthem-like setting – view score-listen
Alas! and Did My Savior Bleed?– original music interpreting the words of Isaac Watts. Also available for SATB choir, with or without piano.
We Have Not Known Thee – hymn by Thomas B Pollock, music incorporates "St. Chrisostom" by Joseph Barnby
Had He Not Loved Us – a powerful text by Timothy Dudley-Smith in an interpretive new setting – view score-listen
O Thou in Whose Presence Freeman Lewis's tune "Dulcimer" or "Beloved" frames this presentation of  Joseph Swain's lyrics
My God, I Thank Thee –  original music highlights Adelaide Procter's perceptive text – view score-listen
Take My Life – another beloved verse by Frances Ridley Havergal with totally new music.  Also available for unison choir.
All My Heart This Night Rejoices – this familiar Christmas text by Paul Gerhardt, (translated by Catherine Winkworth) has a delightful new musical setting. Also available for SSA choir, with or without piano.
High Voice – Price $15.00
Medium Voice – Price $15.00